Nitrous Oxide
CONSCIOUS SEDATION
If you have not been maintaining your oral health due to anxiety about the dentist, then you may be a good fit for nitrous oxide sedation at Refine Dentistry. Our office provides nitrous oxide sedation for complex dental procedures and to comfort individuals with dental fears and anxieties during normal checkups and exams. Nitrous oxide (N2O) gas is a simple sedation option that may help you relax safely during your dental procedure. Also called laughing gas, nitrous oxide sedation is offered by dentist Dr. Richard Lam to keep you awake while being completely relaxed. Set up a consultation with Dr. Richard Lam for more information on the use of sedation methods like N2O during your dental visits.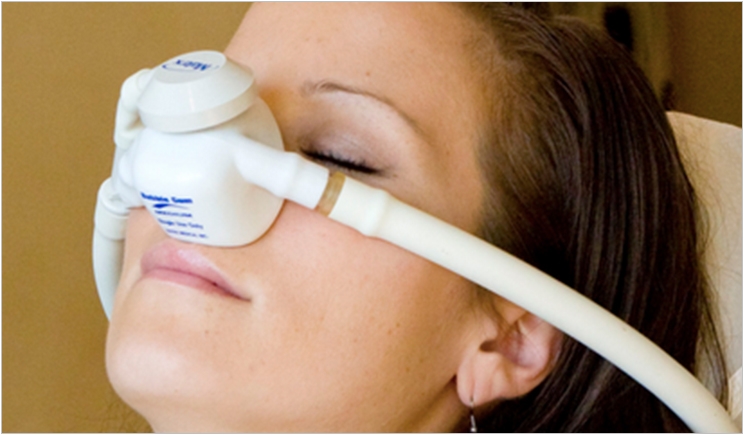 Nitrous oxide is incredibly simple and straightforward. When you sit down in the chair, we place a small mask over your nose. We then turn on the nitrous oxide and oxygen. As you inhale the gas, it goes to work almost instantly, enabling you to feel relaxed and comfortable. When your procedure is over, the nitrous oxide is shut off, but the oxygen is left on for a few extra minutes. This is done to help ensure all of the nitrous oxide has left your system. The effects wear off very quickly, and you are even able to drive yourself home in most cases.
Nitrous oxide is both incredibly safe and very effective. It is the mildest, and safest, form of sedation. Nitrous oxide also has no lingering side effects once it has worn off.

With nitrous oxide, we can help you to feel more relaxed and comfortable, enabling us to provide you with your necessary care, whether it is a dental cleaning and exam, performing a root canal, dental implant or any other treatments.
find out if nitrous oxide is right for you